With the Fi app, you can track your dog's activity and progress towards their daily step goals.
Note: Activity history is only available with an active subscription.
View Your Dog's Activity:
Open the Fi app
In the bar on the lower portion of the app, you should see three bars: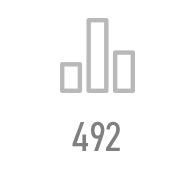 From there, you can check:
Steps for today &

Miles walked for the current day. P

lease note miles are only calculated on walks, not as a total of steps taken, in order for your dog to have any miles displayed, they need to have gone on a walk, away from the safe zone.

Tap to reveal progress towards daily goal, and toggle between hourly, daily, weekly, and monthly views

You can view the steps, miles accumulated, and streak above the bar graph for each specific view

Daily Goal
% to daily goal .
Option to change the step goal.
The cumulative steps/miles for the past 7 days

This includes a graph showing the progress throughout the week with daily breakdowns

Hot Streaks status. The current day streak + your longest streak with activity.
A scrollable calendar that details your pup's activity streaks.
Rank
Next to the Activity section, you'll see Rank. Here you can go over your pup's Breed and overall rank. This will also unlock your pup's overall rank in the Fi community, and their breed rank. Within ranks, you can toggle by "top" and "my rank".
All rankings are based on the past 28 days of activity
Breed rankings are only available when there are enough pups in the breed category
To learn more about rankings see: Understanding Breed and Overall Ranking
Live
You can view your pup's daily walks and activity by clicking on Live in the lower left hand corner of the app.
Once you tap on the Live tab, it will give you a scrollable list that details all of your pup's daily activity, walks, hot streaks, and rank updates.
How are dog steps calculated?
Fi's activity tracking uses a unique algorithm to track your dog's steps. Every dog has a different walking pattern and depending on the ongoing activity each dog can account for different amount of "steps."
These steps are then used in your pup's rankings and if your collar is offline when your steps are being counted, the steps will comeback once it has proper coverage or a connection with your phone/base.
How does my dog's Fi collar track walk routes?
The Fi collar relies on multiple signals to determine its location - knowing that your smartphone device is in proximity (as well as the location that your phone believes it is currently) is a great signal. If you don't take your smartphone device with you when you walk your dog, the Fi collar will power GPS. However, on its own, GPS can be inaccurate and battery intensive. See: Activity Tracking: Walks
Note: For the most accurate route tracking, Fi recommends carrying your smartphone with you on yours and your dog's walks, with the Fi app open in the background of your device. If someone else is walking your dog, we recommend having them carry their smartphone, as well, and joining your account as an 'Owner.' (See Multiple Owners)