A subscription gives you access to the full capabilities of your dog's Fi collar - allowing Fi for remote access to your dog's location and activity. The cost of the subscription covers the GPS/LTE connection to your dog's Fi collar. Without a subscription, the Fi collar will still function - but if your dog wanders outside the range of your smartphone or Fi base, we will not be able to locate your pup. We highly recommend purchasing a subscription if you're worried about your dog running off!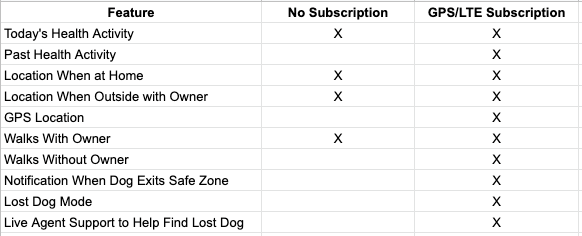 Fi Subscription Pricing
1 Year Plan: $99 
2 Year Plan: $186 
3 Year Plan: $248 
GPS subscriptions include a free 30-day trial. This means that you won't be charged for whichever plan you add to your cart with your Fi collar immediately upon checkout, but, instead, in 30 days after activating your pup's Fi collar. This cost will be charged to your original form of payment and your subscription will auto-renew by default at the end each cycle. All subscriptions are billed in annual increments.
Subscriptions can be cancelled within 30 days of activation date.

After 30 days, billed subscriptions are non-refundable.