If your Fi Base is not properly able to communicate to the Fi systems your will see a red indicator in the Fi App Menu calling for your attention -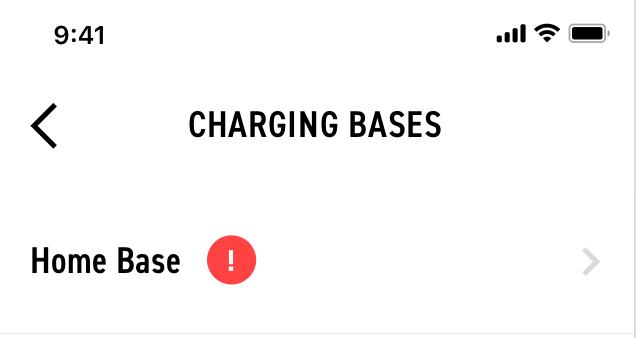 When this happens, follow these steps to try to get your Fi Base back in business : 
Make sure that your Home Wifi is working - use another device like your phone or your computer to connect to your Wifi and make sure that the Internet connection is working.
Unplug the Fi Base for a minute, and replug it to the power outlet. Sometimes it can just get into a bad state and restarting the base solves the problem. Wait for 2 minutes after replugging the Fi Base and if the red icon in the Base Menu of the app did not disappear, proceed to step 3.


Place the Fi Collar on the charging base and make sure it starts pulsing blue. This will ensure that the charging base is plugged into a proper power outlet.


Open the Fi App > Menu > Bases and tap on the base showing the red mark - tap on the name of your Wifi network and reconnect to it entering the proper password.
If this latest step succeeds, your base is now able to properly communicate to our servers and the red mark should disappear shortly. 
If your Wifi network does not appear in the list - 
wait a little bit
try to cancel / reopen the Wifi selection screen
move your base to a location with better Wifi coverage
ensure that the 2.4GHz option of the Wifi router is enabled (it usually is) - refer to your Wifi router manufacturer documentation for this
If the connection to your Wifi network fails - repeat the Wifi connection steps and ensure you type in your Wifi password properly.
If it still fails contact our support at support@tryfi.com for technical assistance.