If your dog's live card displays SEARCHING FOR NETWORK instead of LIVE in the Fi App, this means the collar is unable to connect to the Fi Server and provide a live update.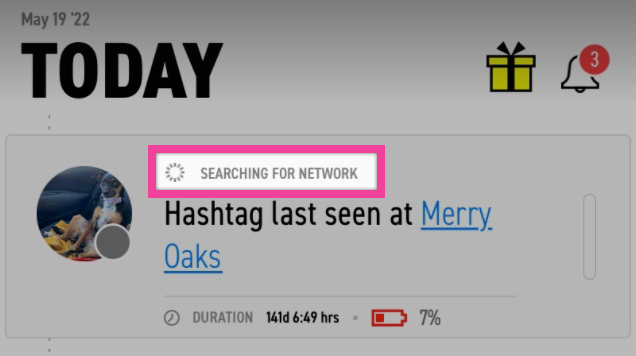 To ensure live updates are always available, it is important to ensure the Fi Collar has access to the correct connection source for each activity your dog is doing. See: How Does the Fi Collar Obtain My Dog's Location?
______________________________________________________________________________________________
Troubleshooting Searching for Network at Home/Near an Owner
If your dog is close by, and the Fi App is open, your phone will automatically connect to the Fi Collar and update to "Live", follow these steps:
Start by opening the Fi App and approaching your dog. If the live card updates to "live", your dog had previously wandered to an area where it could not connect to the Fi Server.

Understanding Fi Collar's Connection State

will provide suggestions for an ideal set up depending on your dog's activity at the time it was searching for network.

If after a few minutes of being within 6 feet of your dog your phone does not update to "Live" in the Fi App please proceed to reset your dog's Fi collar:

How Do I Reset My Fi Module?

A reset will help refresh the connection between your phone and Fi Collar.

If after performing a reset of the Fi Collar the issue persists please submit a troubleshooting request

and let the team know what steps have been taken.