Understanding how your pup's Fi Collar is currently communicating with Fi's servers is key to maximizing battery life and overall performance. Depending on the activity, you'll want to ensure the collar is accessing the right mode.
The Fi Collar Series 2 has four different ways it can connect to Fi Servers, Fi Series 1 has three and they are:
The Fi Base (Bluetooth)

The Fi App (Bluetooth)

GPS/LTE (For customers with active

Fi Subscriptions

only)

WiFi (Fi Series 2 only)
These sources are each optimized for different scenarios:
Pup indoors:

This connection is paramount for when you are indoors and home. Each base provides

up to

a 150-foot radius of coverage in clear air. If you are seeing a connection issue inside, please note that walls, screens, floors, building materials, etc. can interfere with the connection. (Please see:

Understanding Fi Base Connectivity & Coverage

)
The Fi App, on an Owner's or Walker's smartphone
Pup outside, attended (Walks/Hikes):

When your pup is outdoors, but with an owner/walker, the collar should connect to their mobile device. This means keeping the Fi app either open or running in the background at all times. This will allow the Fi Collar to stay connected with your phone via Bluetooth and send its location to our servers more frequently and accurately.



Pro tip:

If you are indoors, away from the Fi Base, as long as the Fi App is running in the background it will connect to a mobile device, this is handy if your pup is coming to the office or to visit a friend for a day or two, and you do not bring the Fi Base.
WiFi

Complex/large homes, pups that travel often, or visit daycare: If your pup is often out of range from the Fi Base, Fi Series 2 collars will connect directly to WiFi to track your pup. This can happen in larger homes (the Fi base's range is 150 feet in clear air), or if your pup visits daycare, where a Fi Base cannot be set up.
Pup is lost, or roaming outside independently:

The GPS/LTE subscription

will be activated when the collar is not connected to your Fi base at home or your smartphone's Fi app. This should only happen when your pup is outdoors, and unattended (either lost or able to roam freely.)

You'll want to avoid using GPS as the main source of tracking for a few reasons:




GPS alone is

Battery intensive

Inaccurate for tracking day-to-day activities (such as walks). When the collar is using GPS, it will only obtain a location update once every 5 minutes. This is done so that the device can conserve battery power for when you really need it
Pro tip: If your pup is lost, you'll want to activate Lost Dog Mode to speed up GPS updates. Having issues with GPS? Read more here: Infrequent & Inaccurate LTE/GPS Location Reports
Checking the connection state:
You can see how the collar is currently connecting by following these steps:
Open the Fi App

Tap

Live

Tap the "live" card located at the top of the live menu, this will reveal a location map

Tap your pup's profile photo

Note the icon to the right of the battery %
From there, you will see the current connection state for your pup.
Fi Base:

This means your pup is connected to the base. For an example, here you will see that Izzy is connected to the base: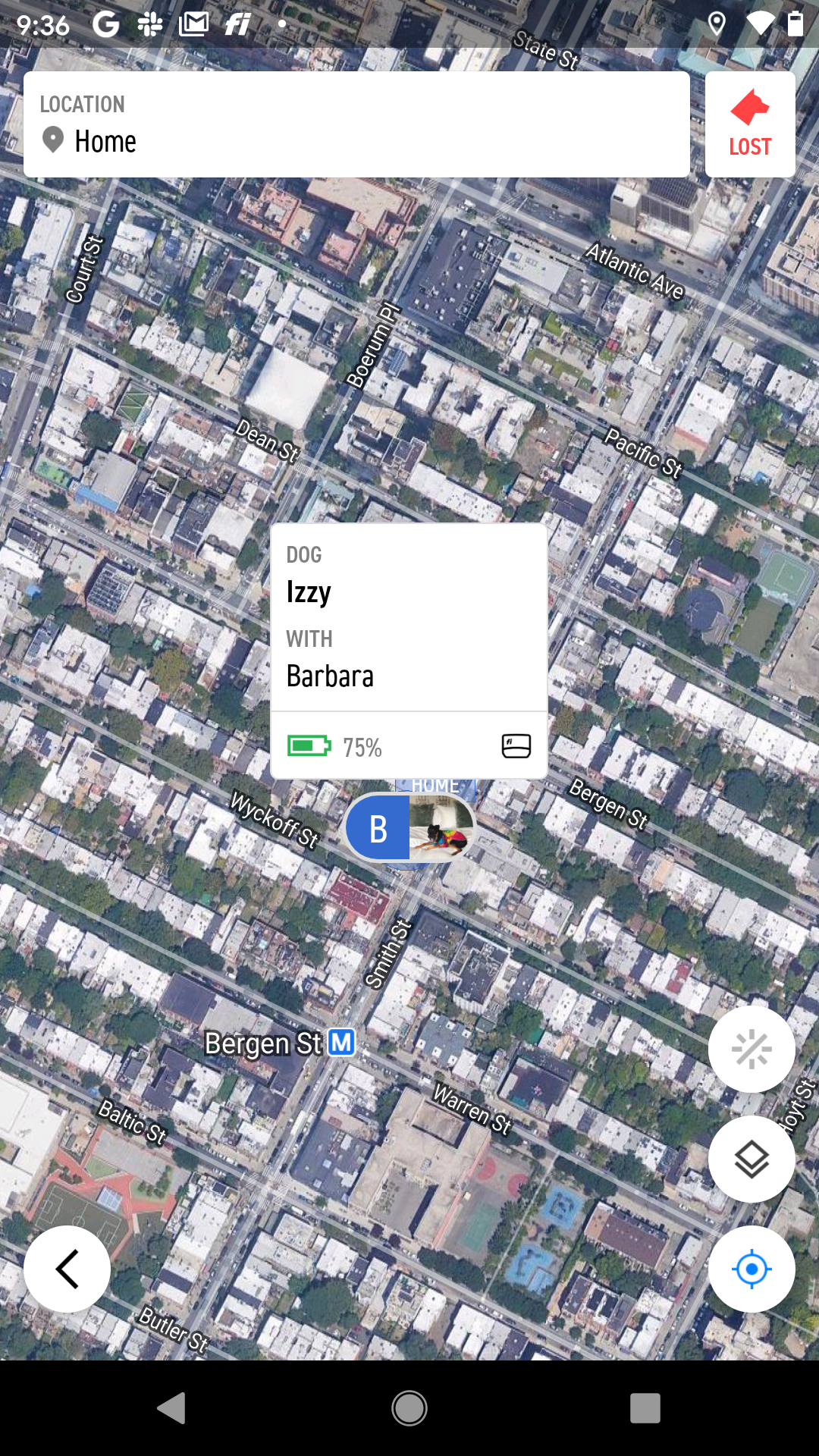 Blue circle with your initial: your pup is connected to your mobile device
Circle with a blue outline and other letter within: your pup is connected to the mobile device of another owner
Cell phone bars: your pup is connected to LTE
WiFi bars (Series 2 only): your pup is connected to WiFi