Instructions for first-time users. Below you'll find a step-by-step guide that you can use once your Fi Collar Kit arrives.
If you have previously used Fi and created a dog profile, you will want to activate a Fi Collar, rather than follow the steps for the first time set up. See: How Do I Activate a Replacement Fi Collar?
______________________________________________________________________________________________
Here Is What You Need to Set Up Your Fi Collar
Your Fi Collar Kit needs to be physically with you (Fi Collar, Fi Band, and Fi Base).

A mobile device that meets our minimum requirements:

Android 6.0+ aka Android M or newer

iPhone - iOS 14 ( iPhone 6s & 6 + and higher, including iPhone SE 1st generation)

Access to a Wi-Fi Network.

Must be a 2.4GHz Wi-Fi Network
______________________________________________________________________________________________
For Series 3 Collars
To charge or activate your collar, the module must sit in the indention on the top side of your Fi Base. The bottom of the Fi Base shows the Fi Logo. If you set your collar on the bottom of the base, it will not charge or activate properly.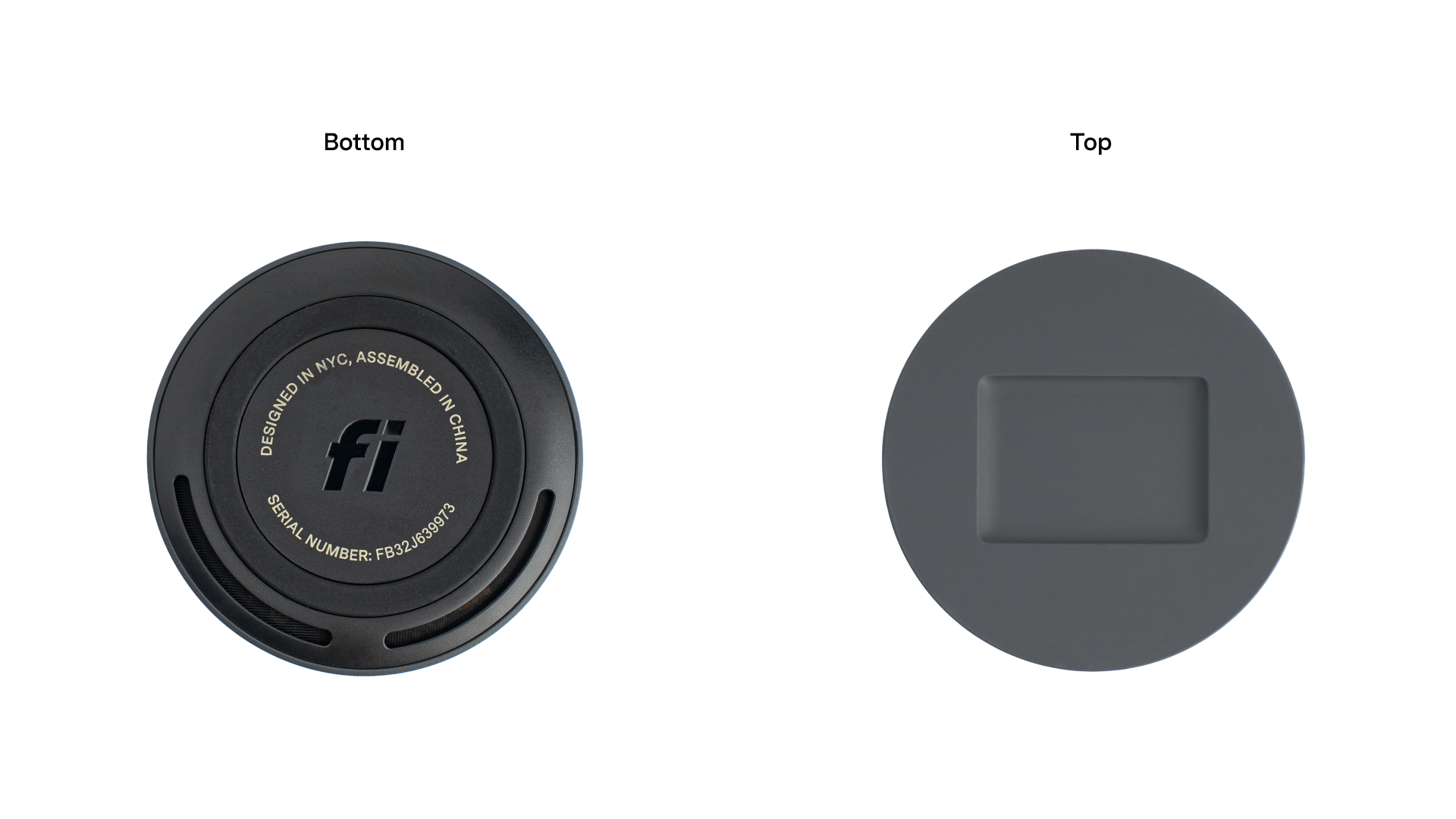 ______________________________________________________________________________________________
Steps to Set Up Your Fi Collar
Download the Fi App on your smartphone.

After you download the Fi App to your smartphone, Sign In to the app.

An account was created for you at check out when you purchased your Fi Collar.

Use the same email address you used to purchase your Fi Collar, which will be the email address where your Fi receipt was sent.

During the check out flow, you created a password, although if you don't recall this- tap "

I forgot my password

" and we'll send you a link.

If you'd prefer to use a different email, or if you received Fi as a gift, open the Fi App on your phone and simply tap Get Started. Enter the email you'd like to use and set a password.

For your password, you'll need to meet the minimum requirement of 8 characters.

Once you have downloaded the Fi App and logged into your account, the app has step-by-step instructions to continue setting up your Fi Collar.

Enter your phone number or skip.

Tap Create Dog Profile.

Enter your dog's name.

Specify your dog's gender.

Specify breed category.

Specify breed type.

Enter your dog's birthday (or adoption date).

Enter your dog's weight.

Select a photo of your dog from your phone's camera, gallery, or Instagram (you can skip this step, by tapping continue without adding a photo).


Please note: selecting Instagram will also link your Instagram account to your Fi Profile, and your handle will be visible in rankings to other Fi users.

Invite owners (you can skip this step by tapping next without inviting any owners).

Plug in your Fi Base (we recommend a spot where your dog spends a lot of their time, but is also within range of your Wi-Fi network).

In the app, you'll see a "loading screen" while the app scans for your base.

Once the base is activated, you'll see Base activated.
Tap continue to move onto Base configuration.

In the app, you'll see a "loading screen" while the app configures your base.

Once the base is configured, you'll see It works with Wi-Fi.
Tap Connected to Wi-Fi to connect your base to your home network.

In the app, you'll see a "scanning" screen, while the app looks for nearby networks

Tap your network from Choose a Network.
Enter your network's Wi-Fi password in Join Network.
Tap continue to connect to the network.

In the app you'll see a "Connecting" screen while the app connects to your network.

Once connected, you'll see Connected to Wi-Fi.
Tap Set Base Location to move to the next screen.
Tap Enable to set your Safe Zone.

Set your base location. You can do this by entering the address where the base is located, and then pinch and pull the blue circle to cover the area your pet can roam safely in this area, with no alert needed. Please note, the minimum size is 60 feet.

Tap Save to save your Base Location & Safe Zone.
Your Base is now fully configured, tap continue.
Tap continue to set your alert preferences. Would you like to receive push notifications, SMS notifications or both? Please note, if you did not enter a phone number on step 1, you'll be prompted to add one now to get SMS notifications.
Tap continue and place your Fi collar on the base. This will turn your Fi collar on. You should see the Fi Collar light come on at this step.

In the app you'll see a "loading screen" while the app scans for your collar.

Once the collar is activated, you'll see Collar activated.
Tap Continue, and you're all set!
If you signed up for a Fi GPS/LTE Subscription/Membership trial during check out, this will automatically be applied to the collar. No further action is needed. You'll receive an email confirming your activation.
For multi pet households, see: How Do I Add Multiple Dogs to My Fi App?

Place the Fi Collar on your dog and start tracking your dog's location and activity using the Fi App.
______________________________________________________________________________________________
Suggested Articles